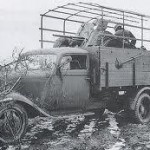 In the 18th century, coach builders were mainly concerned with making open wooden carts pulled by horses.
When the first trucks appeared on the roads in the 1920s, they were given wooden truck boxes as well.
These wooden boxes consisted of a wooden open container to which a wooden frame was fitted for the canvas. At the time, closed boxes were nothing more than open boxes with a hood. The first wooden tie slats for a closed box were a fact.
The custom of securing loads with wooden slats is still alive here. Today almost all closed boxes consist of an aluminium or polyester structure to which wooden slats are secured.
However, there are now more modern and lighter tying systems to secure your load. Wooden slats in a box weigh 60kg. An aluminium load lock rail only weigh 3kg. This system offers many other advantages. For more information, visit the load lock rail page.
A lot of van box brands are required to install wooden slats, as they are help ensure sturdiness of the truck box frame. In a Smart-Box this is not the case. The composition of the sandwich panels is strong enough to make them self-supporting.